Tom Larson / Program Director
The most important things to know about me are:
I am a full time resident of Colonial Beach and I'm still in love with this small, quirky town
I joined the WWER team because I'm sure that this locally-focused radio station will be an invaluable asset to the community
Your feedback is important.  Email me at

[email protected]

, or fill out the Contact Form and let us know how we can make WWER even better.
The WWER staff includes several folks with decades of experience in radio.  I am not one of them, but I am an information technology professional.  I recently completed a 4-year stint with a marketing technology firm.  I am currently consulting with a national staffing firm, planning and helping to build the next generation of their internal business intelligence and analytics solutions.  In my work life, I am known as an Architect.  In the IT realm, architects play the role like that of "city planners", meaning we don't code individual applications (build the buildings) rather we work on the grand design of how the streets and buildings should be laid out.  If that analogy doesn't help, don't worry about it.  I do big picture, information technology planning work for my employers and their clients.
Over the course of my career, I've had many technical roles including: Programmer, Database Administrator, Unix Systems Adminstrator, Data Modeler, Data Architect, Solutions Architect, Systems Architect, and Enterprise Architect.  Outside of work, I've built and managed websites for several small businesses and many non-profit organizations.
Like my radio-experienced brethren on the WWER team, I've been a life-long tinkerer.  I was famous for disassembling toys, both mine and my sisters', just to figure out how they worked.  As a 10-year-old I built an intercom using cassette tape recorders and speakers cannibalized from AM transistor radios.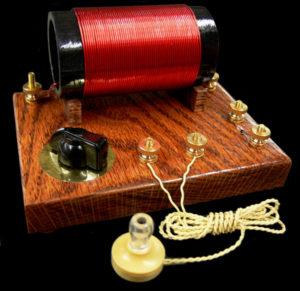 In fact as I was writing this, I recalled that as an even younger boy (maybe 7 or 8), I built a simple crystal radio from a kit my dad gave me — similar to the one pictured, but certainly not on a beautifully finished oak board.  I think mine used a toilet paper tube for the coil, but the headphone was exactly like the one pictured.
---