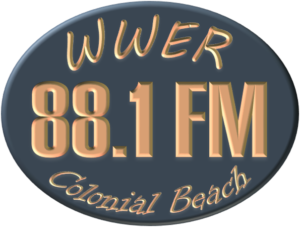 UNDERWRITERS 
Become an Underwriter of
Colonial Beach Community Radio
Support your local radio station and we'll amplify your mission through on air mentions and online presence
WWER broadcasts throughout Colonial Beach, North to Dahlgren Naval Base, south to Maddox Creek, and east to the Maryland side of the Potomac.
As an underwriter of WWER, you raise awareness of your organization throughout this area and beyond.

Do you own business that wants to publicly show support?  Are you a fraternal organization planning a special event?  Are you a club looking to expand membership?
We publicly acknowledge your support through our on air sponsorship announcements.  Additionally all underwriters, regardless of level, will be listed on the WWER website.
Underwriting Levels
Level
Monthly Gift
On Air Mentions
Duration
GOLD

❖

$100

6 / Day

up to :30

SILVER

$50

3 / Day

up to :30

BRONZE

$25

1 / Day

up to :15
Underwriting gift amounts based on a 12-month commitment
GOLD level underwriters may choose a specific program to underwrite, subject to availability.  Gold announcements will air during the chosen specified program, as well as other times of day, scheduled by WWER.
Underwriting Announcements
Announcements may include:
Your business name, address, telephone number and website

Value-neutral description of your products or services

A non-promotional slogan, if you use one

Historical information, such as length of time your establishment has served the area

NOTE: For nonprofit organizations, we are also permitted mention a specific event
On a tight budget?  Try a 'Sand Dollar'
If you play WWER at your establishment, we can offer you a discounted 'sand dollar' mention.
A quick 5 second announcement during our music mixes that mentions your business, such as "We play WWER loud and proud at __________!"
At least 2 mentions per day and a listing on our web page.
$45 for a 3-month commitment.
---