Survey Results – conclusions
Written by Ted Tait on January 7, 2022
Our Underwriting announcements are a major source of funding for WWER.  We greatly appreciate the local businesses who have chosen to Underwrite WWER programming, but we were concerned that listeners might think we have too many of our thank-you's on air, so we asked…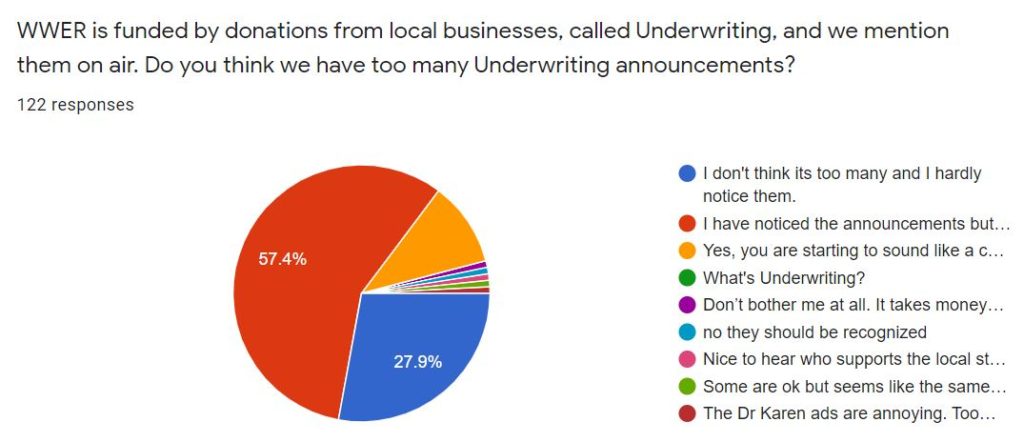 It's clear from the comments that you recognize how important this funding is to WWER.  Over 57% responding say they notice the announcements but don't object to them.  This is actually the ideal response since our underwriters want to be heard without alienating listeners.  Another 30% hardly notice….  Less than 11% said we are starting to sound 'commercial'.
One interesting comment was the listener who said it was good to hear who is supporting us.  This is the real goal of these announcements – to let our listeners know which businesses support us and in turn deserve their support!  So thanks for noticing!
Finally, we get to the comments.  There were so many and we loved reading all of them!  Here are a few highlights and our responses:
Such a great radio station. My husband and I love to hear all programs. We missed the live play. I think we would love to listen to radio murder mystery programs- anyway we love this station.
The CB Playhouse productions have been very popular and we plan to continue to work with the Playhouse.  All of the previous productions are available on our archive page.
I still can't figure out how to find you on Alexa. Otherwise, you rule. Keep on ruling

I think y'all are doing a GREAT JOB!! I am excited to see if you are on my Roku!
We are!  Instructions on how to listen on Roku, Alexa, and Sonos are all on our web site.  Follow the links for yours.
Keep up the awesome work, maybe have something like the "Swap Shop," that used to be on 93.3?
We would love to do this but it is currently beyond our technical abilities.  Something to work for in the future.
How about some cool oblong stickers to advertise the station!
We have those, and send them to each of our WATTS members who donate to WWER.  See our Membership page for more info!
I would love to hear an inspirational quote of the day!
This is a lovely idea!  If we can find a volunteer willing and able to do it, we will!
Put a link on your website to hear Barry's weekly announcement regarding upcoming music events.
Barry is now doing this through the 'blogs' like this one on our main web page.
Looking forward to your growth! Not sure if you cover local weather, but that seems hard to find around here – for our area specifically, especially before/during dangerous storms
Yes we do.  Our dedicated weatherman and chief engineer Dave Loudin gets up around 5AM each day to put together our first weather forecast of the day, and updates it as needed.  It runs at the top of every hour.  The 7 day forecast runs on even numbered hours, and the 36 hour forecast on odd numbered hours.  Our forecast also includes tides for Colonial Beach.
Shorten sponsor ads, don't run them more than once per ad in a show
This was why we asked about whether or not these were getting annoying.  We do try to keep them short – they are only 15-30 seconds long.  The reason we let them run more than once in a show is because we know that people tune in and out throughout the day, so more than one in a show catches more people.  If you listen all day, you will certainly hear repeats but that is unavoidable.
More informational talk shows and local programming during day-time hours.
We have tried to keep the music going during the daytime, with the thought that people listening at work want music for background, rather than talk.  We might consider changing that.
Get rid of the Jazz during prime listening. Not everyone likes Jazz…
True, but some people do.  We try to provide something for everyone.
We need more microwave repeaters to boost signals
Unfortunately the only way for us to grow is by getting a larger online audience. Increasing our FM signal is not an option right now.  By FCC law, we are required to keep our signal from interfering with other radio stations.  This limits our on air signal.
Maybe on weekends when tourists are in town a little more updated music?

Add new music. Starting to hear same songs over again.
Good ideas.  We are trying to add to our music library constantly.   It is a time consuming process, but you should start to hear some new tunes already. We've added several hundred songs to our library in the last month.
Possibly add some info on local high school sports

5 min local history within 20 mins and includes bits on CB.


I would like to have a show where I interview women musicians about who influenced them, play songs from that person, & have interviewee sing.

Live broadcast from events including Town Council, Planning Commission and Parks & Rec Advisory Commission meetings.

You have a great station with a mix of personalities on it. I would like to hear more town and county news as I live just outside of the town limits and like to know what is happening. My wife and I moved to the area last year and I enjoy listening to the station.
These sound like great ideas.  We have already explored some of them.  We have more ideas than people to do them.  If you have a great idea, please consider volunteering to make it happen.  We have tried to get local news reports, but lack people to do them.  We also tried to partner with a local newspaper, but they were not able to help either.
Add some national news to compliment local reporting.
When we started, we made a conscious decision to be as local as possible.  There are so many national news outlets that we felt anything we did would be redundant.  It would also cost us in real dollars because we would have to pay for it.
Please include ALL songs on the program lists. I notice songs are sadly being left out! ?
That's true.  The system we use sometimes misses a song or two from our "now playing" list.  It's a small technical problem that we cannot solve right now.  However, if you hear a song that you want to know the name of, we are happy to check our logs and find out for you.  Send an email with the date, time and any other details that might help to [email protected] and we will try to track it down for you.
Many of the comments were just more words of encouragement.  We loved reading them all!
Great local information love different types of music ?

I listen because of your diversity of music. Unique.

This is a great radio station, judging by how often I have to turn up the volume. Hats off to Ted Tait for making this happen.

Maybe more folk, but overall doing great. I enjoy the station.

LOVE WWER!

Love your station and the variety of music!

Just keep doing what you are doing.

Enjoy most of the programming. Suggest playing more upbeat music in the late afternoon. When most folks are on the ride home from work.

Love this station! Folks need to know how few people are involved, that give a lot of free time and energy, to make it all happen!

You guys are awesome!!! Nothing else like it!!

Keep playing diverse tunes! Let be this station reminds me of Eureka Springs, AR!?

Awesome Station. Ya'll are doing a miraculous job. It's the best FM listening anytime, day or night. Love the diversity!!


love your station my new hometown colonial beach

I can't think of anything I would change! I listen all day every day! Who needs tv??  Reminds me of listening to Terry Lee in Pittsburgh when I was a kid. I love Ken especially.. Saturday nights are sacred to me!
Then you play Buble (I've been following since 2005), Diana Krall, Pink Martini( did you see at Wolftrap this summer?) and I really owe you Caro Emerald! I would never have found her!
You are ALL my friends and I feel like I know you! Someday when I want to bare my pathetic soul I will send my favorite hour!
Please keep the church music on Sunday morning!
Thank you so much….you've saved me!!
Wow!  We'll just end it right there!  Thanks to everyone who took the time to respond to the survey, whether you listen or not.  We strive to improve and grow WWER, but it's heartwarming to know that so many people already love it! 
---
Reader's opinions
---